Christian Albarracín
Publicist and plastic artist with experience in research, design, implementation and realization of social and cultural projects with different communities and population, teaching in artistic workshops with the community in general. He has had the opportunity to work in different artistic projects with different local mayor's offices in Bogota, which dealt with problems of solid waste management, environment, conflict resolution, coexistence and others.
He is interested in environmental art projects that intersect with the intervention, recovery and beautification of public spaces through giant three-dimensional sculptures for outdoors with polygonal technique and made with recycled material.
Paper on paper
For 8 years he has conducted his own self-taught research on the composition of paper: weight, texture and durability, in order to create works that can be exposed to water and the natural environment and remain, making them resistant and durable.
He calls his technique "three-dimensional compositions in layers of paper", a style in which the three-dimensionality of the figure, the nature of the material and the play between the movement of light and shadows give life to his work.
Christian's creative process begins with a search for inspiration that starts by observing the environment and relating it to music; it continues with the respective design: the artist analyzes human bodies and draws their topographic curves on them, each layer of paper is drawn and calculated individually, then he proceeds to print them and then cut and assembled by hand, resulting in these three-dimensional compositions.
The artist has a great affinity with paper, describing it as a material so thin, fragile and malleable that its fine composition makes it a challenging material. The paper in his works does not fulfill the function of only support or receiver, but it is the composer of his work of art. Many have experimented with it, and since it is not associated with a long-standing classical technique, the fact is that the practical demands that it implies make it a noble and complex material in sculpture format. Christian has developed my own research in my three-dimensional compositions, thus achieving something unique and differentiating from other artists working with this material.
Power Back
On September 22, 2022, his first solo exhibition will be inaugurated: poder volver, an exhibition that invites us to relive the universe of play and childhood to remember those experiences that we lived in childhood and that in adulthood we lose and long to remember.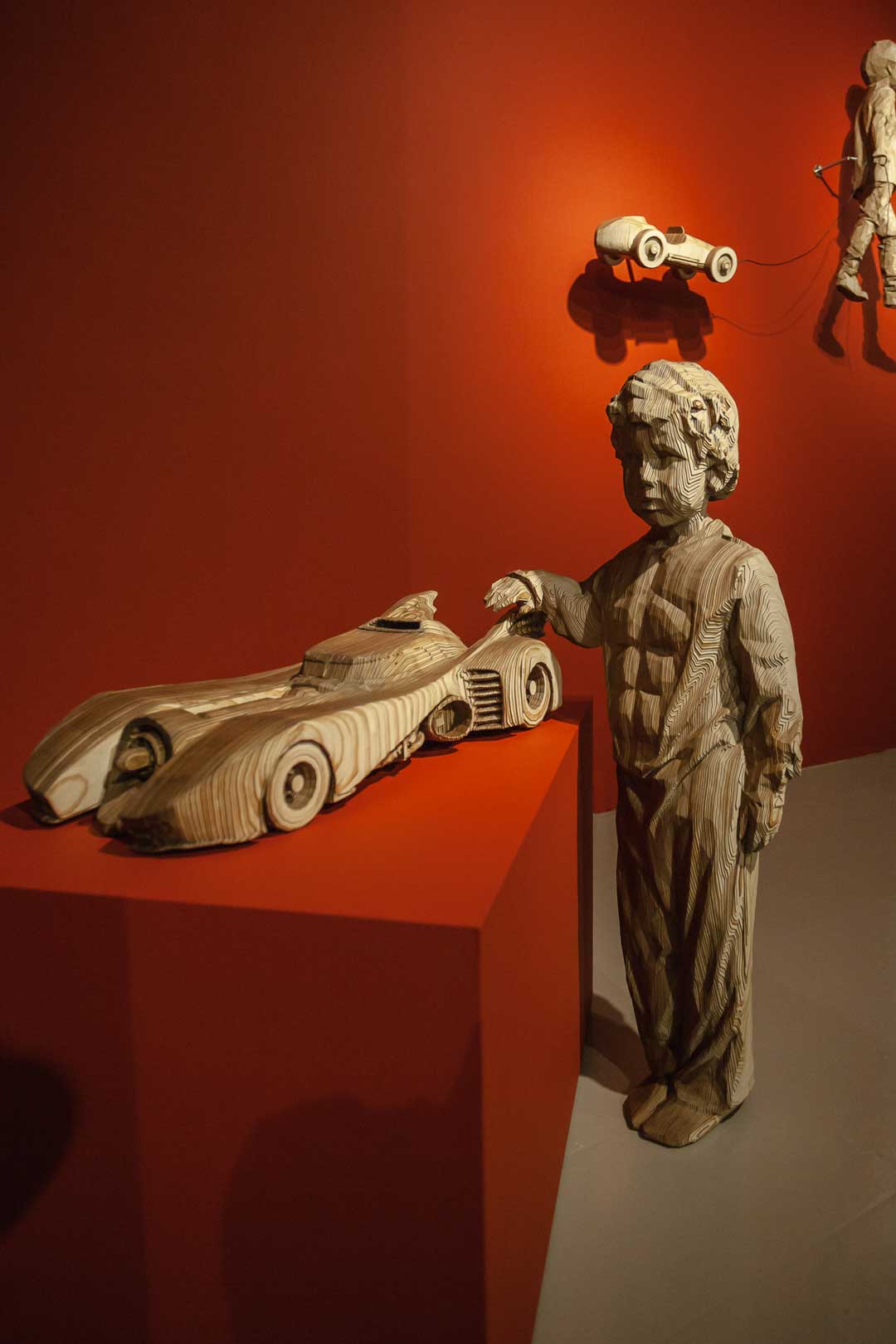 Why rob these innocent creatures of the joys that pass so quickly? This question that Rousseau asks about the education of children refers us to the process through which society insists on preventing the future adult from being a slave to bad habits or from becoming corrupt. From this idea emerges the reflection on the stage of childhood, which is often limited by the rules of behavior in society and the impositions of development models on the human being.

In Albarracín 's first solo exhibition, the question of childhood is based on the representation of corporealities and eventualities that interact through play and toys, from the symbolism that constitutes a place of representation of childhood. Where memory does not reach, strategies are proposed to remember, to incorporate ourselves in our own history, to think about that stage of life in which our perception and relationship with the world is configured from freedom. More than a collection of children's bodies and toys, they are small fragments of personal and intimate memories that return with joy and play, but also with nostalgia and longing, with ruptures and losses.
The theme of childhood and play is part of the series Subjects of the city, which is inspired by diverse presences and situations in the public space, where the artist, from the photographs he takes and finds in social networks, subtracts the forms and people from the urban contexts that contain them, in order to give them back their corporeality through sculpture. This is how she develops a work that, from the work by layers of paper, forms bodily geographies. A methodical and precise exercise that leads to manifestations of objects and bodies, generating places inhabited by presences and with which the public can coexist.
---