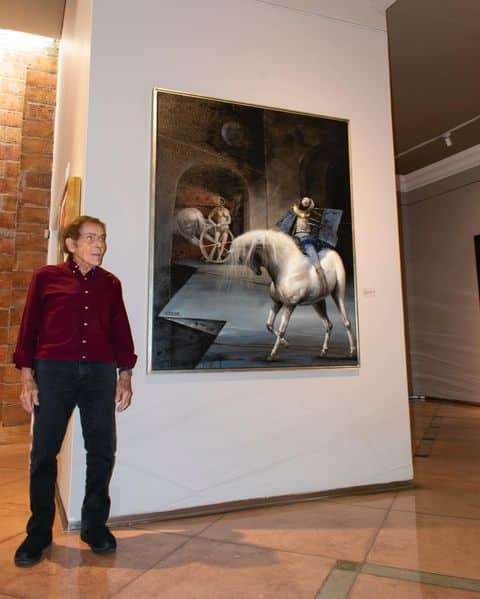 Beyond an exhibition that wants to focus on how exquisite it is to appreciate a work of the master for its visual content, the exhibition "Time, Space and Memory" assumed the function of paying tribute to the work of David Manzur, managing to collect much of it to be exhibited for 3 months.
David Manzur
David Manzur was born in Neira, a mountainous region in northwestern Colombia, on December 14, 1929. During 1934, his parents decided to move to Lebanon as a consequence of an economic crisis, but not before a stopover in Spain. Thus it was that already on the trip the Civil War broke out, completely changing the family's plans and almost forcing them to settle elsewhere, more specifically in the port of Bata, capital of Spanish Guinea (now Equatorial Guinea), Africa.
When the Spanish Civil War ended in 1939, it seemed that they could now stick to their original plan, but that same year saw the first fighting of World War II. His parents, having the safety and education of their children as a priority, decided to board in religious schools in the Canary Islands. David Manzur He recalls how strict the school seemed to him, and how difficult it was to be so far away from his family (they were 17 days away). But it wasn't all bad, because that's where he had his first approach to painting.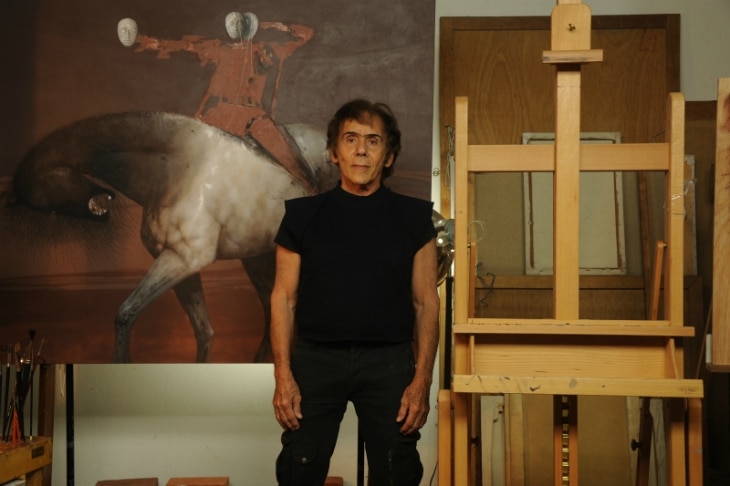 In the school dining room there were several paintings by great Spanish painters: in the dining room there were two paintings by Zurbarán and one by Velásquez. There, observing and unknowingly, this approach would awaken in him an interest in art.
By the end of 1946, he and his family returned to Colombia and settled in the municipality of Armenia. Later, in 1951, he would go to Bogotá, to the Escuela de Bellas Artes, but it would not take him long to abandon his studies there and so he became one of the first students of the Escuela de Arte Dramático. Thanks to this he had the opportunity to meet poets and artists who encouraged him to continue living persistently with love for art. Not long after, in 1953, he held his first solo exhibition at the National Museum.
In 1956 he obtained a scholarship from Canadian industrialist Hugh Slight, to study in New York, a place, like all those he visited, from which he took a part to capture in his paintings.
Today, at 92 years of age, he is one of the most important and beloved painters in the country. The poetry and theatricality of his works is difficult to find in other authors. In 2019 he was decorated by former President Iván Duque with the Order of Boyacá.
---
Time, space and memory
The group of works that inhabited the Duque Arango Gallery during the exhibition, many of them from private collections, make reference to an anthology of the Colombian painter's production. Not all of his periods were included in this exhibition, but it does highlight important themes and moments in the artist's life from 1973 to 2022.
In addition to being delighted by the magnificent work of the exhibition, visitors were able to appreciate, contrast, and go through the series of Las Ciudades Oxidadas, Los Caballos, Las Meninas, musical instruments, still lifes, and women; thus, those who visited the exhibition could get to know small parts of Manzur's life as captured in his paintings:
Analyzing David Manzur's work is a task of discoveries and inquiries that imply finding demanding particularities in several levels of meanings, associated to the artist's visions, and, definitely, to a very wide arc of personal and professional interests; of religious and metaphysical concerns present in a universe for the imagined poured on canvases and papers. Scenarios of universal dramas populated by human characters, animals, objects, where each one seems to be the vision of the Genesis, of the birth of something that the artist does not manage to reveal to us. His themes escape from a chronological time to move into the territory of an abstract time that submerges in past and future to become figurations of possible presents in the Essence and Being of painting; at the same time of intimate figurations, of thesis and antithesis: solitude-plenitude, sadness, joy, fantasy-reality, strength-fragility, freedom-enclosure, of enigmatic nature and transcendent spirit, of a reality of art and human in triple action: the personal, the ethical and the aesthetic. His are contemporary urban narratives of fictions drawn from various sources that are transformed into existences of an honest creator for whom art has been the reason for his long life. Each of Manzur's works, with its own radiance, breaks with the canonical rules of artistic-plastic creation, the most important being the establishment of an open cycle of communication between them, at the same time that each one has its own individual space, but when analyzing them in the process of creation, this communicating cycle turns them into a "collective", that is, into a unique entity of visual proposal of formidable formalist aesthetic quality. They are theater scenes, where the characters narrate their own story, the story of all human beings, an authentic life story that is expressed within a figurative universalism as opposed to a constructivist universalism. The artist moves away from the picturesque and the anecdotal, to expose only the essential: a figuration in universal dimension, without expressionist stridencies, but full of the vigor of a strong visual poetics, in some melancholic corner of a present that escapes.

Belgium Rodriguez, 2022
The constructivist dramatism embodied in Manzur's painting is unmatched, he has the ability to combine traditional art with modernist painting, supported by important references in painting without ever losing his personal imprint, making him an expert in drawing, painting, anatomy and composition.
We are grateful not only to Maestro Manzur, but also to all those who attended the inauguration and during the three months of the exhibition. The Duque Arango Gallery seeks to continue being a reference and meeting point where the passion for Latin American art can be experienced.
---