If we are going to talk about abstract expressionism and geometry in art, it is impossible not to mention the master Omar Rayo.
Omar Rayo was born January 20, 1928, in Roldanillo, Valle del Cauca, Colombia. He began his artistic career as a caricaturist drawing and illustrating for local media in Cali and Bogota, and published an album with twenty caricatures of famous people such as Bolivar, Pope Pius XII, Winston Churchill and Charles de Gaulle, among others.
Further ahead, his art is defined within several avant-garde movements of the 20th century popular and in movement at the time, such as Surrealism, Op Art, Pop Art and Conceptual Art, with which he experimented during his artistic life without ever losing his individualism and recognition.
His work is beginning to be recognized for the advanced innovations he showed for the time:
He settled in Mexico for study purposes, where he delved into pre-Columbian art and rescued lines, geometric figures, volumes and superimpositions.
Since 1954 he made an extensive overland trip to South America where for 4 years he painted and exhibited simultaneously. The influence that these years had on his career was too important, since he decided to use geographical elements loaded with meaning: each line, tonality, space used and symmetry proposed, was very much in line with what he observed of the nature and flow of each place and the abstract primitivism of the colonial history of these regions.
In 1970, he won first place at the Salón Nacional de Artistas de Colombia and has also been honored with the Special Printmaking Award at the Second Inter-American Biennial in Mexico, the Philadelphia Museum of Art Award and the Acquisition Award from the Manchester Institute of Arts and Sciences.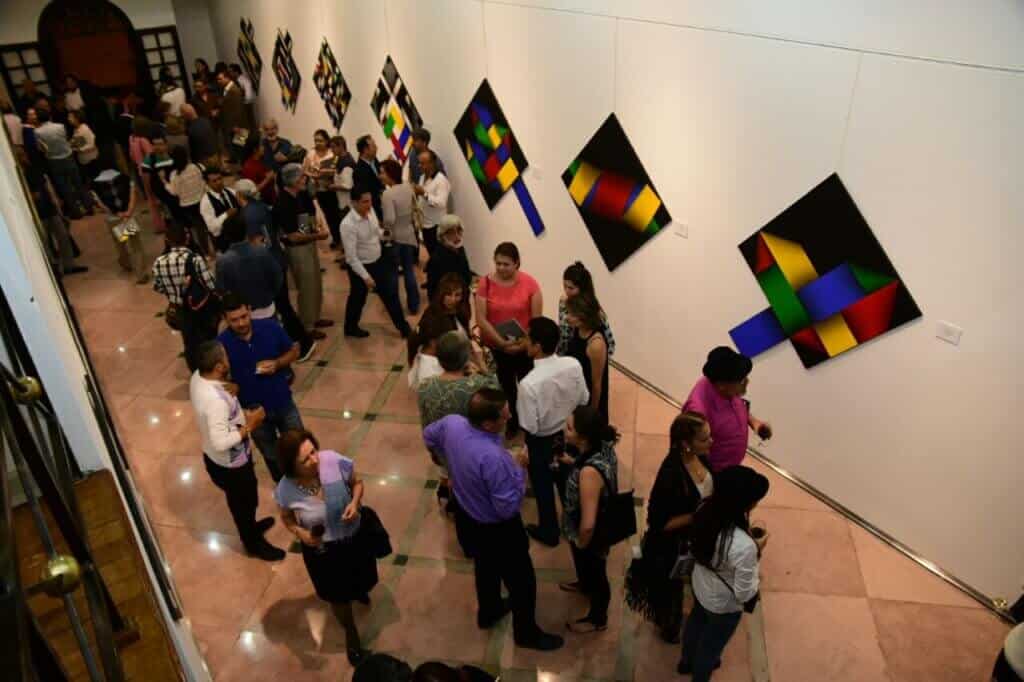 Few artists have had the dedication that Rayo had: he never stopped painting, from the first moment he began to paint he knew what he wanted to do until the moment he died. In 1981 he created the Rayo Museum of Latin American Drawing and Engraving in his hometown; in the last years of his life he dedicated himself to creating works for this collection, which currently exhibits around 2000 of his own works and 500 works by other Latin American artists that were part of his personal collection.
The lines that create optical effects, make his work can be understood by many as an abstract labyrinth, but they are highly gifted and hide the history of a continent behind them.
Juan García Ponce, writer and critic, adds to the analysis of Rayo's work.
Undoubtedly, originality alone is not enough to make a work of art valuable; but in Rayo's case, it is also supported by a solid sense of composition and a formidable inventive power that turns each work into an individual and different experience with its own values. Using his discovery in different directions and in some cases using color to accentuate the weight and rhythm of the forms within the general space of the composition, Rayo manages to present each of the works as a particular and independent world (…).

Juan García Ponce
Rayo's textures, colors, perfect mathematics, volumes, balance and unbreakable composition demonstrate that he is not only an artist who knew how to back up his historical interest, but that his handling of plastic art is so precise that it places him as an artist who cannot be ignored, even in this century.