Three Cuban artists, shadow, light and chiaroscuro: Wifredo Lam, Julio Larraz and Ariel Cabrera
If to any moderately trained viewer or a regular consumer of the Ibero-American visual culture of our days, were mentioned, at the same time, the names of: Wifredo Lam, Julio Larraz and Ariel CabreraIn his head would jump a set of words that it is not chance that projected it, but the certainty that the three are Cuban, therefore, Latin American, Caribbean and tropical.
Evidently, they belong to different generations: Historical Avant-Garde (Lam), Postmodernism (Larraz), Post-Millennial Contemporaneity (Cabrera). If each one was -and is- a child of his time, each one has been forced to face the pictorial tradition from a different perspective. A diversity that we could spin using a certainty that is kept in parallel, in all three: they are absolute connoisseurs of the sensuality of the light of our tropic, or our tropical luminosity, I baptize them by monthlyizing their lights and shadows.
Shades: LAM
When the stroke of the pastel, the charcoal, the dry brush becomes a profile, reveals a curvature, a piece of the back, a cascading hip, an insinuated spirit, hidden behind a veil of transparencies and opacities; it is when the very loose and light gesture of the master Lam becomes manifest sensuality.
Unquestionably the most prestigious and historically relevant artist of the 20th century born in Cuba, Wifredo Lam, knew how to take advantage of this awareness of our light to draw from it our shadows; but he did this in a natural way: first, as a matter of freedom of expressive resources, providing himself with new avant-garde anti-academic formalisms; less is more, as long as that less refers to a sandy, greenish space, where El Monte emerges. Second, because of his faith in the syncretic Afro-transatlantic creeds -which are animist-, he always saw life where there was none to appear to be. I saw or visualized the souls hidden in the bush, in the domestic void, in the hollowed out and infinite framed corner of a mirror, or in the reflections of the water; there they emerge. chichirikus, eggunes, luceros, eshúes. These "lives auratic" that Lam found in his visions, are sensually represented in every appearance he performs in each of his works. It is never the crudeness of realistic truth, but rather, its elusive post-cubist surreal figuration closer to the elongated schematizations of the prima lista cultures of Oceania than to our own Bantu, Kikongo or Yoruba heritage. A stylization of the stroke that marked a pattern of our gestural speed becoming flesh, an amorphous thing that seduces, deceives, bewitches. Just as he himself was bewitched by his clairvoyant capacity, by his skillful skill that in the tropics everything is eroticism, carnality, warmth, nudity. Dreamed sensuality. Mystery.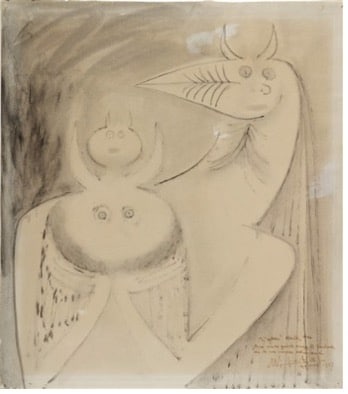 Light: LARRAZ
Few artists in the tropics have been able to capture our light as accurately as Julio Larraz does. Perhaps it is because his is a morning light, endowed with a morning, initiating luminosity. As dazzling as our own noon, refractory and blinding. Or it may be because it paints in front (pro and con) of a blinding light. Contrary to Lam, not only because in order to claim to distinguish himself as an author, every artist must Freudianly "kill the father", but also because in his early youth narrative figuration had a revival thanks to the entry of Pop Art and Hyperrealism. Larraz faced painting from that vertigo: How to paint with this light in excess? Then, where Lam was hiding and darkening, Larraz decided to illuminate, to put the spotlight, to stop the narrative time and to silence. Julio's luminosity silences, silences vulgarities, detaches from its representation the tumult, the mass, selecting solitude as its best habitat. Wherever Julio looks, the subject is surrounded by emptiness, wrapped in the middle of a set that engulfs them, his characters experience an astonishing loneliness, assumed, mature, a chosen loneliness. The solitude of someone who prefers to sit on a terrace in the sun, not caring that the heat suffocates him, because the looseness of his hand still impregnates him with air, freshness, irony, amusement, mockery, insular joking. Pure sarcasm.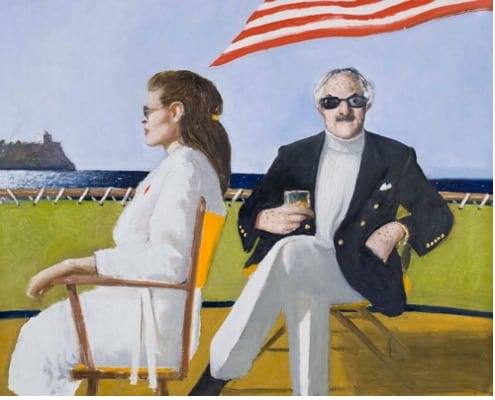 Chiaroscuro: CABRERA
Heir to the luminous palette of Larraz and the unprejudiced relationship with carnality and the libertine way of understanding the background and figure of Lam, Ariel Cabrera Montejo, is pure sensuality from his most germinal ideations. Everything about him is fleshy, skin, juxtaposed costumes, nudity, insinuation, and self-confidence. His chromatic range is more dominated by chiaroscuro, a neo-baroque touch with post-impressionist agility, a lightness that indicates that each work is executed "a la primma", but closer to Sorolla and Fortuny than to Richter or Tuymanns. And there, Ariel, picks up a gauntlet in his heritage and the possible debt of Contemporary Cuban Painting with European and North American Painting of the late nineteenth century, an influence that we deny first by avant-garde and second because in our processes of national foundation the criollización preferred to mix rather than maintain some admiration for some imperial legacy. A century later, to return to that light, to that meaty sensuality of the bodies, to that cinematographic fragmentation of shots, sequences, unfolding of moving images that are paralyzed, and that rigidity is loose, is what provokes Cabrera Montejo to affirm that he is a master. Young, but equally masterful, knowing the sensuality of each brushstroke like a lick.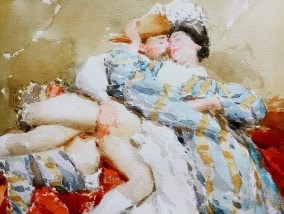 All three are Cuban artists who experienced three births of the image. First, photographic and cinematographic, Lam in his beginnings had that fate, Larraz experienced the birth of television, the mass media and the invasive city advertising of the great cosmopolitan cities and Cabrera the birth of the Internet and the vertiginous digital era (too early to speak of the Meta-Verse); and all three did it from the exercise of painting: Lam, renouncing the image, denying it, destroying it, even forgetting that it existed, dispensing with it; Larrazironically coexisting with its fetishistic development, its narrative capacity in suspenseits bucolic tempo melodramatic; Cabreramaking fun of it, making it timeless, transversal in time and space, by means of current technologies and the most traditional techniques that a contemporary artist has at hand, making it a fractal amalgamation, a Aleph infinite.
sensual tropical light made into a coral painting, which enraptures us.
Omar-Pascual Castillo
Las Palmas de Gran Canaria, Spain.
Spring 2022