A 120-meter mural painted by the Ecuadorian artist Oswaldo Guayasamín witnessed the transit of thousands of people between Spain and Latin America for 41 years now.
The mural, located in the Adolfo Suárez Madrid-Barajas international airport, in the Spanish capital, represents the endearing unity between Latin America and Spain. It is a mural made of acrylics and marble dust that is divided into two panels: one dedicated to Spain and all its cultural influence, and another to Latin America during the conquest: its customs and traditions.
"In 1982, on the occasion of a remodeling of Barajas, which coincided with the Soccer World Cup, this mural was installed as a tribute to the relations between Ecuador and Latin America with Spain," explained the director of the Madrid airport, Miguel Ángel Oleaga.
The painter captured a pre-Columbian America in the first panel: its myths, legends and characters, before the arrival of the Spanish, and in the second he reflected the Spanish part that they led to the conquest; The part dedicated to America is located in the departure area to Ecuador, while the one representing Spain is located in the arrival area of ​​flights from this country.
In the America panel we can see a pre-Columbian world, a story narrated from several scenes that pay homage to Latin American roots:
It shows an Indian playing the rondador (tube flute), as well as icons that pay homage to the pre-Columbian masks that played a very important role in the culture of the time, as they represented the intermediary between the world of gods and men.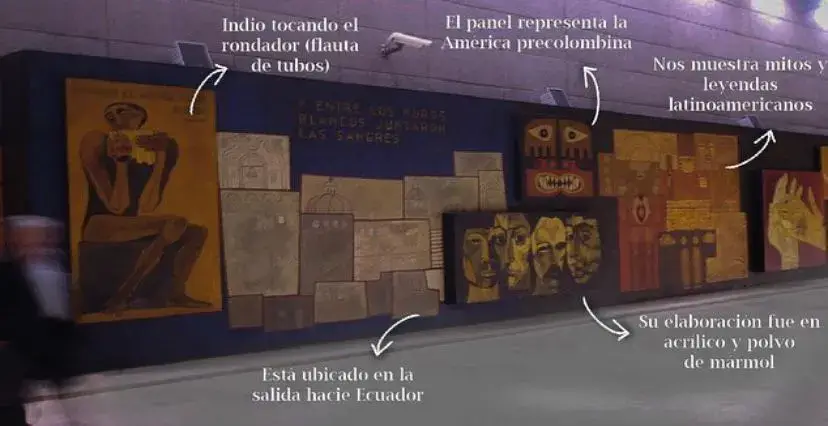 The part dedicated to Spain also reflects customs that have accompanied the country's history, such as Mediterranean dance.
There is a representation of two hands that shows the Spanish-American union and the transfer from one culture to another at the time of the conquest, also accompanied by images of the conquistadors in their characteristic expressionist style.
Guayasamín was a close friend of the Spanish guitarist Paco de Lucía, whom he portrayed on occasion and whom he also took as an inspiration to represent the tradition and importance of the Spanish guitar for the culture of his country on the mural.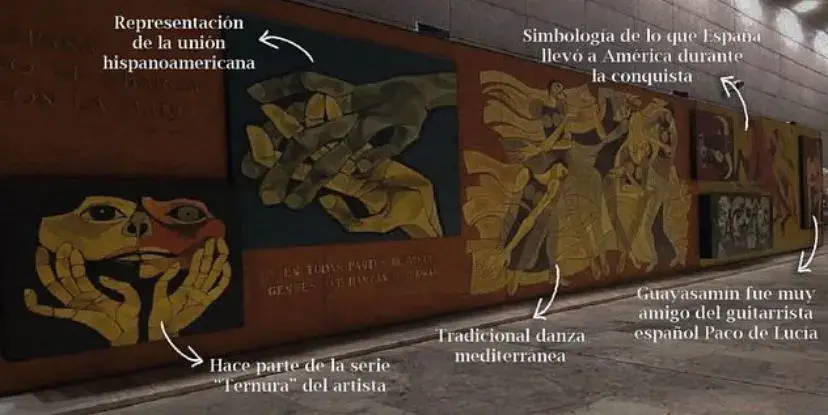 Enthusiastic about the work of the Latin artist, the director of the Madrid airport expressed his hope that the contemplation of the mural in Barajas serves to encourage travelers heading to Ecuador to visit the artist's museum in Quito, since, in his opinion , is "one of the most important places in the city".
Air traffic between Madrid and Ecuador involves more than 400,000 passengers every year, who pass in front of this mural on their arrival or departure from Barajas, adding to the more than 15 million travelers who also pass annually in front of this work of art. art.