This December 17, 2022 Ana Mercedes Hoyos was the most searched person on Google in Latin America, because Google decided to pay tribute to her by dedicating her doodle of the day, which was available in Colombia, Brazil, Peru, Chile, Argentina, Mexico, Puerto Rico, United States, Iceland, Ireland, United Kingdom and Germany.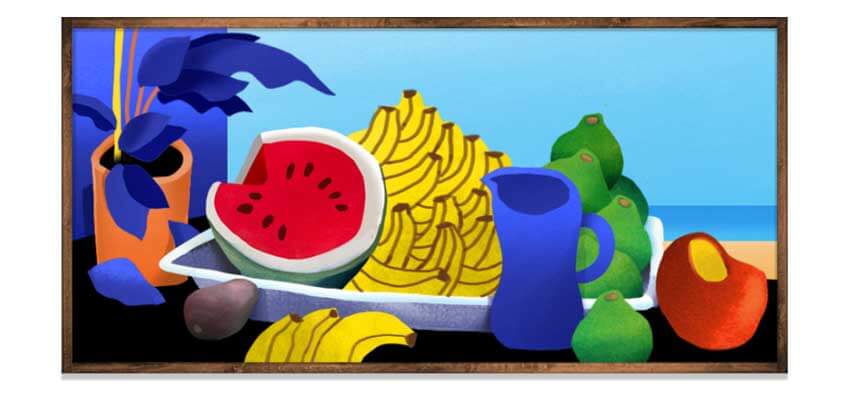 This is because on the same date but in 1968, the Colombian artist won first place in the exhibition "Espacios Ambientales" (Environmental Spaces) at the Museum of Modern Art in Bogota for her work on Afro-Colombian communities in the Caribbean.
In addition to this, Ana Mercedes won more than 17 national and international awards and her works have been present in exhibitions all over the world.
Who is Ana Mercedes Hoyos?
Ana Mercedes Hoyos was born in Bogotá on September 29, 1942. He attended elementary and high school at the Marymount School in Bogota. During high school she took private painting lessons with Luciano Jaramillo, her father cultivated in her an interest in museums and art history. He entered the Universidad de los Andes to study plastic arts, continued his studies at the Universidad Nacional de Bogotá, but did not graduate from either to devote himself to painting.
In 1966 Hoyos began to exhibit. His works were very close to the pop movement. He began his work with a series of billboards, urban landscapes and oil buses that were characterized by strong colors.
The artist has a representative mark: her works have very vivid strong colors, almost flat. From 1987 onwards he made a series of figurative works with national motifs, Bodegones de Palenque, based on the platones of the fruit sellers of Cartagena, and a series of Papagayos.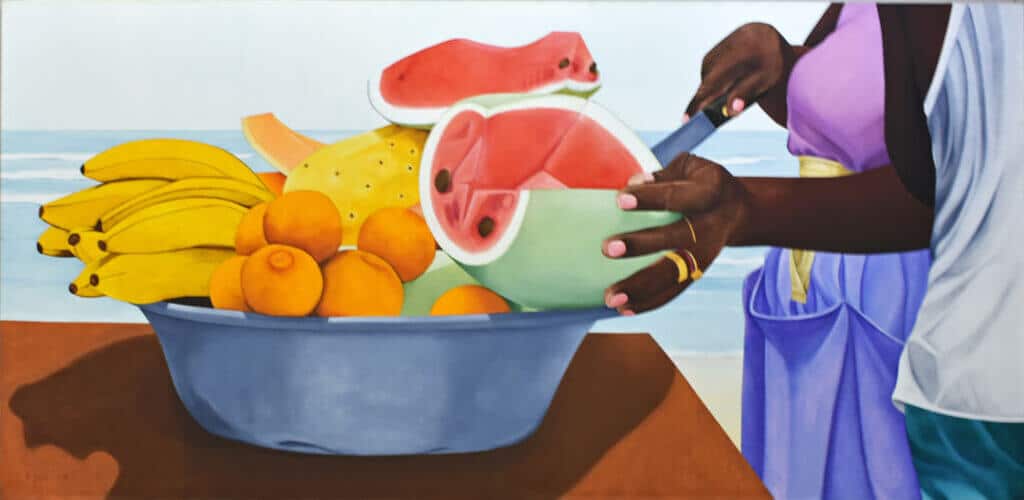 Ana Mercedes Hoyos passed away at the Clínica Fundación Santa Fe in the Colombian capital on September 5, 2014. The Ministry of Culture also regretted in a statement the death of an artist it considered "a great reference for the visual arts in the world". He also emphasized the immense artistic legacy that Hoyos leaves behind after half a century of artistic career.
To the rhythm of palenque
In spite of being a work partly of denunciation, of diatribe, in relation to the situation of the population of African descent in Colombia and in general in the American continent, the work of Ana Mercedes Hoyos never produced a feeling of sadness, affliction or grief. On the contrary, it is a work that overflows with joy and vitality, as is only natural for such a lively and festive race and culture. San Basilio de Palenque, "the first free people of America" was the artist's main focus, but in reality her work refers, by extension, to all the descendants of slavery who were brought in the most humiliating conditions to this hemisphere.
The paintings, drawings and sculptures presented on this occasion at the Duque Arango Gallery, more than a challenge to irreversible historical facts, constitute a look at slavery as a starting point for cultures that began to flourish after its arrival on American soil, which have grown and developed with a pride and strength that have managed to permeate and influence the dominant culture, enriching it in various aspects ranging from cuisine to dance, and from music to costumes.
Ana Mercedes' still lifes, some of which are presented in this exhibition both in drawing and painting, are pieces of an extraordinary presence, in which, along with their intention as a socio-cultural document, conscientious aesthetic considerations are evident, for example in their careful combination of forms and vibrant coloring as befits the theme, but also in the sense of harmony typical of the Palenquero people, since, as the artist expressed it well, "I was never interested in a still life assembled by me, with the objects or foodstuffs artistically arranged to produce a basically aesthetic image: I was never interested in a still life assembled by me, with the objects or edibles artistically arranged to produce a basically aesthetic image.
We invite you to see the digital catalog of this exhibition.