Latin American Muralism was born in 1910 after the Mexican Revolution as a way of political expression. It was driven by political activists of the time and developed by groups of young artists.
Muralism has been a way of expressing through art an opposition to the dictatorships and violent regimes that have characterized Latin American political history. In these murals, social problems are captured in images, he moves away from the traditional art academy and aims to raise a discontent and protest by creating monumental public domain to challenge the aristocratic art to which only a few had access.
Its boom, undoubtedly, occurred in Mexico around the 1920s, where after a revolution, the facades of government buildings were the center of demonstrations by means of these murals. But more than showing disagreement, Muralism took on a role of educating the masses by recreating the country's history.
Some of the exponents who contributed to the development and evolution of this movement are:
Diego Rivera: His murals at the Palacio Nacional de Bellas Artes in Mexico City initiated this movement that was later continued by José Clemente Orozco, David Alfaro Siqueiros, among others. He used to touch, in his works, on anti-capitalist themes and support for workers' movements. He proclaimed himself a revolutionary in the eyes of the world for his mural at the Rockfeller Center in New York in which he portrayed Lenin and Stalin, which had to be removed immediately.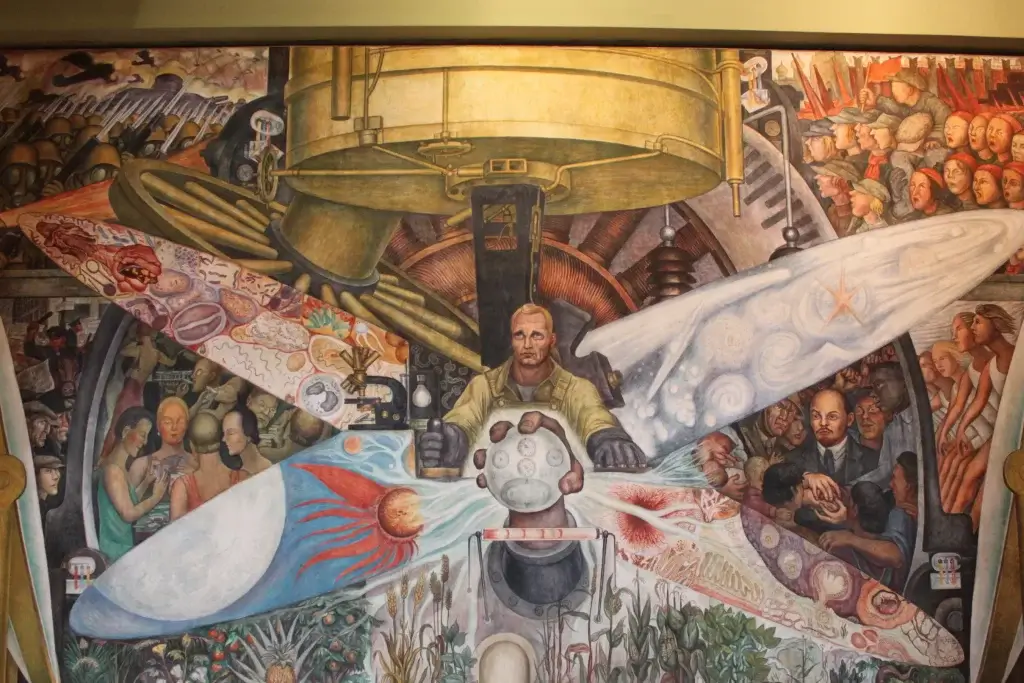 David Alfaro Siqueiros: Throughout his artistic career he chose to create murals that stood out as experimental and innovative. He traveled throughout South America and established the principles of Latin American Muralism in other countries as well. In his works, he played with perspective, angles and implemented documentary photography as part of the movement.
José Clemente Orozco: In the interwar period, he contributed great creations to Mexican pictorial art. He was recognized as an interpreter between revolution and Art.
Even so, muralism gained strength not only in Mexico but also in other countries in Latin America, who opted for it as a need to express their revolution through an artistic manifestation.
In Chile, muralists emerged after Allende's triumph with propagandistic messages about the responsibilities of the State and its citizens. There it was not developed by individual artists, but by brigades.
In Brazil, issues of high social importance such as racism, indigenous communities and poverty were discussed. It became popular in the streets of the different neighborhoods and favelas also as a means of expression for love of country and freedom in society.
Ecuador took muralism as a movement of historical recreation. Subsequently, the government embraced this historical practice and gave way to great artists such as Diógenes Paredes, Jaime Valencia and José Enrique Guerrero, Oswaldo Guayasamín and Galo Galecio to intervene in important places and buildings in their cities. These artists had a notorious historical and pictorial influence of the Mexican muralists.

In Colombia, muralism was immediately rejected by politicians and academics, but it would later become a movement much mentioned and loved by them. The most important muralists were inspired by the history of the country, its social problems and urban legends and myths.
It didn't take long for this movement to spread beyond Latin America either, initially by Latin American migrants who through their murals showed their identity as immigrants and the convergence and clashes of various cultures.
Muralism currently maintains its importance, museums around the world exhibit its works and stories and throughout Latin America buildings, libraries and facades of works by its greatest representatives are preserved.