Fernando Botero's "El Circo" series is a collection of paintings that capture the essence and atmosphere of the circus world. Through his characteristic style, Botero portrays artists, animals and other elements in spaces full of color and vitality. This series is made up of 32 oil paintings and 20 drawings, maintaining his unique technique in which he portrays both circus performers and animals with bulky figures.
Botero traveled to Zihuatanejo, Mexico, and visited the Atayde Circus, which reminded him of his childhood in Medellin in the 1930s, when he visited a circus for the first time at the age of six. There, decades later, he came up with the idea of creating this series. Botero wanted to fill these works with color, shapes and expressions, so that he could transmit joy and optimism to the public, as he was interested in the philosophy of circus art and the life of circus nomads, which was always full of dynamism and artistic talent, so he portrayed this idea making sure that the color was exaggerated, as it was something totally natural and characteristic of the shows.
In the series, at first glance, the use of a vibrant palette and intense tones that catch the eye is evident. The bright colors highlight the joy and festivity of being in the presence of the circus and the exaggerated contours and rounded shapes infuse the paintings with a sense of harmony and wholeness. In addition, the artist pays special attention to detail, showing each small element with meticulousness and precision.
But beyond the explosive effusiveness that Fernando Botero's artworks present in the foreground, he explores deeper themes. Although his paintings convey a sense of joy and fun, they also evoke a sense of melancholy and loneliness. Circus performers, despite their imposing physical presence, often present themselves with serious or melancholic faces, perhaps suggesting the difficulties and sacrifices involved in their profession. This duality between the festive and the introspective adds an additional layer of complexity.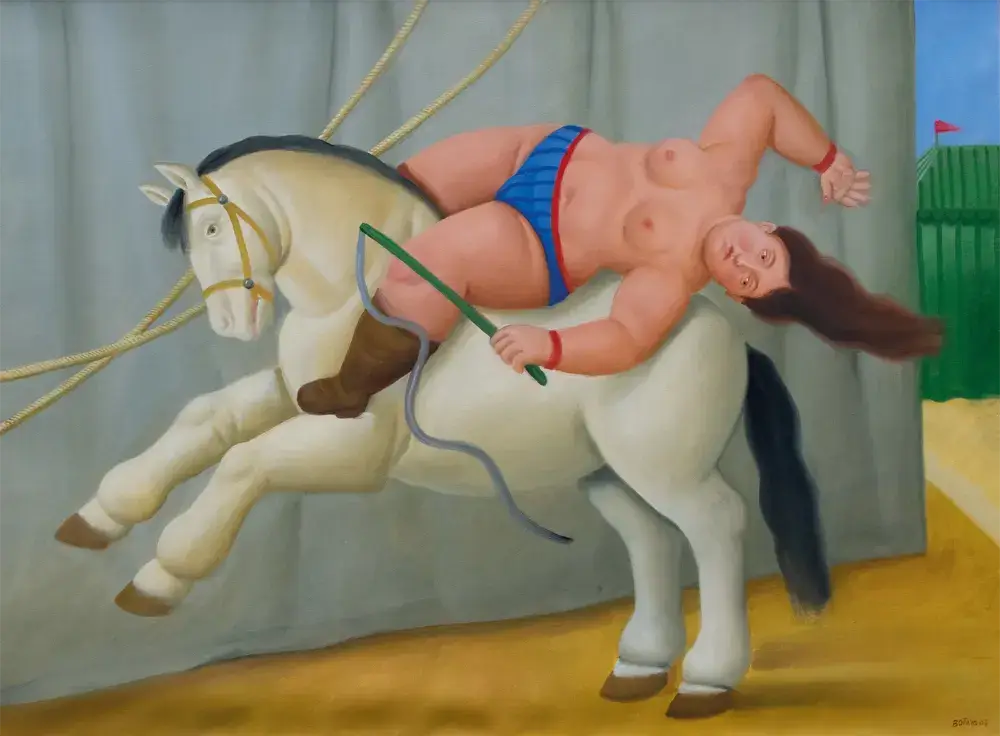 Thus, Fernando Botero manages to represent in this series what the circus is: in a first impression everything is color and joy, but if we stay analyzing these colors that radiate happiness, they turn into melancholic and tired faces.