"My fabrics have been my freedom."
Life and work: art and craftsmanship
Olga de Amaral was born on June 10, 1932 in an Antioquian family with five sisters and two brothers. He studied architectural design at the Colegio Mayor de Cundinamarca, which allowed him to come into contact with two disciplines that have been his points of reference: design and architecture. In 1954, when the new artistic currents were taking hold in Colombia, she left to study textiles and design at the Cranbrook Academy of Art in Michigan, which gave her a professional base for a practice that she had already appreciated in the Colombian peasants and that later has been her main means of operation in the international artistic field. After his return to Colombia, Amaral applied Strengell's philosophies to his own weavings, which were also nourished by the local context.
She dug into the fabric and immediately fell in love with it. Her first work was sold to her husband, whom she met in Michigan. She considers herself neither an artist nor an artisan, she says that her path is one of constant discovery.
Her work gives life to materials: she starts with fiber, paint, plaster or precious metals, which she transforms into works with a sculptural tone that she manages to integrate in a balanced way with design and craftsmanship techniques. His work is very personal, reflecting his inner abstraction, inspired by pre-Columbian textures and his great admiration for nature. He makes good use of geometry and depth, creating form, movement and light, without neglecting architecture, mathematics, landscape and Colombian diversity.
She is considered one of the great pioneers of post-war Latin American abstraction: her works do not leave aside a historical milestone. His use of gold is a way of uniting pre-Hispanic culture, colonial art and his contemporary work, as well as the use of unconventional materials, which fuse weaving with his urgency to give answers. It is therefore safe to say that his works are essentially unclassifiable and self-reflexively authentic.
Amaral' s sensitivity has been what has allowed him to experiment. She creates her own language through the implementation of new materials, new fibers and new concepts, without ever leaving aside what characterizes her so much: the middle ground that she herself found between art, architecture and craftsmanship.
Her art has been contextualized within the discourses of the Latin American avant-garde, the feminine renaissance of craftsmanship, fiber art, modernist abstraction and the search for new postmodernist meanings.

In 1971, he won first prize at the XXII National Artists' Salon, which meant an opening of the country's events and institutions to the crossing of languages and modes, which was beginning to manifest itself with the multiplication of formal options. In 1973, he was awarded the Guggenheim Fellowship and in 1972 the first prize at the Third Coltejer Art Biennial in Medellin, which showed the reception that his work had begun to have in circuits other than the decorative arts or handicrafts themselves. Olga de Amaral later made numerous exhibitions in different countries and has been characterized since the sixties for having a constant work, with a notable presence in international galleries and museums.
He has had close to one hundred exhibitions solo exhibitions and has participated in more than one hundred group exhibitions, in renowned institutions around the world. His work is part of 24 permanent collections, including the Banco de la República Art Collection, the collection of the Musée d'Art Moderne de la Ville de Paris, the Museum of Modern Art in New York, the Metropolitan Museum of Art, the Kyoto Museum of Modern Art. Two of his works are exhibited at the Miguel Urrutia Art Museum of the Banco de la República.
Amaral and fashion
Her knowledge of fabrics has kept her interested and immersed in the fashion industry.
In 2018 she gave her interpretation of the iconic Lady Dior bag from French fashion house Christian Dior.
"I used a material that I often use for my work: gold. The light that this material has inspires me a lot," says Olga de Amaral. She was the only Latin American artist chosen to be part of this call.
She presented four exclusive pieces: two medium-sized bags made of cotton and linen leaves with 24-karat gold plating, and two in a smaller version (mini Lady Dior) made of goatskin leather, covered with beads and metallic tubular elements of handmade jewelry. These four were exhibited at Art Basel in Miami in 2018.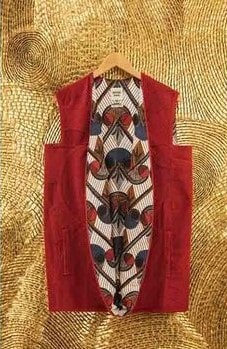 Colombian designer Isabel Heano, launched in her spring-summer 2012 collection a series of dresses inspired by her work, resulting in a collection "charged with a singular feminine sensibility in which the sensations of color, textures and fluidity are abstracted".
The French house Hermès in 2015 was inspired by his work and wanted to translate it into a vest.
"It is impressive how they managed to transfer the essence of my work to the vest. The color, the texture, everything is very similar," said the Colombian artist after seeing the piece.